Local events, markets and shopping
Markets
One of the great pleasures of holidaying in Italy is the discovery of local markets which sell very fresh local produce, as well as clothes, crafts and other items.
Here is a list of when and where some local markets are held:
Umbertide
General market (fresh produce and fresh fish in the main town square, clothes etc in the carpark opposite the castle) Wednesday mornings, spreading from Piazza Matteotti to Piazza Caduti del Lavoro.
There is now also a small Saturday market in the main town square of crafts and artisan food products.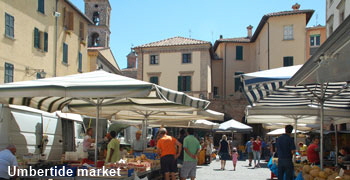 Cittą di Castello
Thursday and Saturday mornings, spreading from Piazza Gabriotti along the Corso Cavour.
Monterchi
Sunday mornings, along the road into town from the valley: clothes, cheap handbags and sunspecs.
Trestina
Via Maria Montessori (day tbc).
Perugia
Saturday, near Duomo.
Festivals
There are so many local festivals that it is difficult to know which ones to list (we have just put some of our favourites). Each has its own theme (mushroom festival etc), and the formula usually revolves around stalls selling local crafts and produce, and one or more restaurant areas with set-price meals.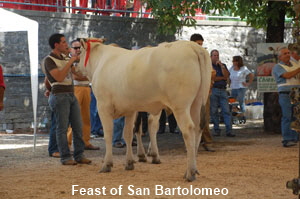 Umbertide - Festa dell'Ottocento in September (19th century costume and traditional crafts) Perugia - Festival of Chocolate in October
Citta di Castello - Festa di S.Bartolomeo held on the weekend closest to 24 August (agricultural fair - displays of rare breeds, huge Chianina cattle, rural crafts); National Horse Show in mid September (numerous competitions including dressage, show jumping, and men in cowboy hats rounding up cattle): see photos.
Cortona – Festa della Bistecca in August (huge t-bone steaks from the white Chianina cattle).
S. Leo Bastia – Sagra del Fungo in September (porcini mushrooms)
Lisciano Niccone – Festa dei Strangozzi (hearty handmade pasta)
Montone – Festa del Bosco in late October (handcrafts and produce of the forest)

Aside from food, there is a well-established Music Festival in Preggio; an internationally renowned jazz festival in Perugia; and a film festival with screenings in Montone and Umbertide.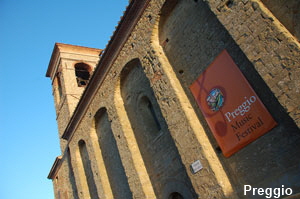 Shopping
Farmshop attached to the Gritti restaurant at Girasola di Sant'Andrea, in Molino Vitelli, sells meat, bread, milk and other basic groceries. Especially useful for those arriving on Saturday as it is open on a Sunday.
Eurospar Supermarket in Trestina, again is open on a Sunday.
Coop in Umbertide - stocks good and often local fresh produce as well as all usual supermarket staples but Sunday opening is the exception rather than the rule. There is also a smaller supermarket (CONAD) in the town centre of Umbertide next to the butcher (see below).
Cakes, pastries, handmade chocolates and (in season) home-made icecream:
Cose Dolci
Via Nestore, Verna, 075 941 0446
Butcher: knowledgeable, helpful butchers who offer a wide selection of superior quality meat
Valtiberina Carni
Via Roma, 1, Umbertide
075 941 5640

There are also good butchers on the main street in Trestina and in Cittą di Castello, on the corner of the Cathedral square.
Baker:
There is a small foodshop and bar in Spedalicchio, at the foot of our hill, where you can buy bread and other basic supplies. Otherwise the closest bakers are in Umbertide, in the square opposite the railway station, and on the main street in Trestina.
Beeswax and honey direct from the farm:
Azienda Apistica Montecorona
Loc Montecorona 323
06019 Umbertide
tel: 075 9411610
http://www.ceralacera.com
Wine:
Enoteca Bani
Via Garibaldi, 37
075 942 0316
Ceramics: far and away the classiest (but possibly also the priciest) of the Deruta ceramic manufacturers, patronised by US Presidents, so rumour has it.
Grazia
Via Tiberina, 181
Deruta
Tel: +39 075 971 0201
Fax: +39 075 972 018
http://www.ubaldograzia.com
Clothes:
for designer fashions and shoes try browsing in the shop on the corner of the main square of Umbertide and along the alley that leads from the top of the square, towards the railway track, or in and around the high street in central Cittą di Castello, Sansepolcro or Perugia.
Fabric and lace:
Busatti, branches in central Umbertide and in Cittą di Castello
Hand-knitted or woven sweaters and blankets made from alpaca or mohair, dyed with natural dyes, within walking distance of Casa Nova:
Maridiana Alpaca
Frazione Niccone 173
06019 Umbertide (PG)
tel: 0759410931
http://www.alpaca.it
Stuff to keep kids amused - toys, jigsaws, and the biggest imaginable selection of model-making material (serious model planes, airfix-type kits of all types, war-gaming models):
Emporio 45 (model shop)
Via Borgo di Sotto 3, Cittą di Castello
Tel: +39 075 855 5921
Open: 9-13 / 16-19.30