"The descending slopes of the mountains are planted with underwood, among which are a number of little risings with a rich soil, on which hardly a stone is to be found. In fruitfulness they are quite equal to a valley, and though their harvest is rather later, their crops are just as good... The arable land is so stiff that it is necessary to go over it nine times with the biggest oxen and the strongest ploughs." Pliny the Younger
The Farm
Pliny's comments on the soil in this area ring very true: the soil in the lower parts of the land here is generally deep and rich; in places it is such stiff clay you could practically turn it straight into a pot or roof tile. However, further up the hillside you encounter areas where the soil is either a lighter loam or a shaley mix of mudstone, gravel and thin soil. The aspect of our land is to the South-East and South-West, running around the shoulder of the hill. Parts are terraced or gently sloping but the wooded fringes are in some places so steep that getting logged timber out would be quite beyond us. What are we, two rank beginners, to do with a parcel of land that, at some 30 acres, including the uncultivable bits, is too big to be a garden and, arguably, too small to be a farm? We did not know, when we bought it, but we knew that, irrationally, quixotically, we wanted to try.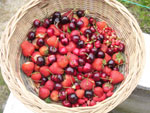 The person from whom we bought Casa Nova pioneered organic fruit-farming here in the 1980s, planting much of the land with orchards of plums, apples, pears and quince, in place of the olives previously grown here. This was doubly novel, since organic methods were all but unknown in the area at the time and, though practically everyone in Umbria has a few fruit trees for their own use, it is not traditionally a commercial fruit-growing area. Locals speak fondly of the quality of the fruit that the farm produced in its hey day. Many of the trees here are of an apple called Anurka, which produces small, red fruit with white flesh that is pleasantly sharp but aromatic: quite like an English Cox's Pippin.
However, by the time we arrived it was evident that a rethink was needed as to the direction the farm should take. Apples, in particular, are subject to a truly daunting number of pests. The sheer number of trees in the orchards here makes organic methods of pest control and culture an impossible challenge, at least without a workforce bigger than an enterprise of this size can support. What's more, in this climate apples will only give of their best if irrigated and the area involved exceeds the capacity of our small lake. 20 years on, few of them were producing anything at all.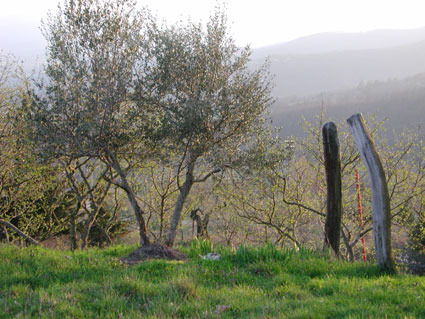 Our thinking is to return much of the land to olives, planted in numbers and at densities that make organic management viable, maintaining only enough fruit trees to supply ourselves and our guests, and choosing varieties of fruit that are naturally disease resistant. Some areas of the woods we will coppice to produce timber for heating; others we will leave as areas where the wildlife can live undisturbed. We are evaluating a number of other possibilities, such as planting chestnut (probably we have the wrong aspect for these, which are said to prefer the North slopes) or walnut; or planting trees impregnated with truffles, in hopes they will produce a crop of black tubers and we can offer our guests the fun of trying to find them before the wild boar do.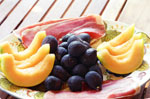 We are well aware of how much we have to learn and of how laughable it is to imagine that curling up at night with a book on olive pruning or organic orchard management can turn you into a farmer overnight, especially if you are both trying to achieve other things with your lives as well. But step by step, we aim to learn enough, from others and from hands-on experience, to manage our small patch both productively and responsibly.
Already we have a number of olives which we have pruned back into production, a thriving mixed orchard, productive vegetable and herb plots and (when foxes permit) chickens. For a description of what fruits and vegetables we are growing currently see here. Over time, we want to extend our activities to being a specialist plant nursery for certain types of garden plants and we are beginning by building a collection of irises to grow on, so that when our stocks have multiplied sufficiently we will be able to offer both cut flowers and rhizomes for sale. Once that is up and running we intend to extend to others of our favourite plants that have proved hard to obtain here in Italy: daylilies, hardy geraniums, perennial grasses and shrub roses grown on their own roots. You can view the plant collections here.