For kids by kids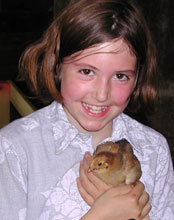 Hi, I'm Isabella, the mad-looking person holding a chick. The highlight of Italy for me is definitely the times we've had animals. One year I had five chicks. One of our friends gave us one, I called him Tweeter, and then we had to get him some friends. We called one Darth Vader because it was very dark coloured, but he turned out to be a girl. There were also Lily, Bridget and Jones, who all turned out to be boys. To start with they were tiny and looked really funny standing in the chicken house we'd built for them, looking around in awe. But they settled down eventually. Once they got a bit bigger we let them out during the day. One time they went up to the vegetable garden and all I can say is they were significantly fatter when they came back down.
If you're not in the mood to race over the hills on your bike you can go and take a walk up to the lake. You'll hear thousands of frogs jump into the water singing their crazy frog tune. Or you can always go and build a den, since we've got endless piles of wood. We also have a climbing frame and a swing. All you need to do is go up the steps near the car park and you'll find it.
The swimming pool is really fun. I like to do lengths or flop on a lilo.
I bet you anything we've got some of the best bike rides around. There's one going to the best ice-cream place nearby, which is almost all down hill (as long as you get your parents to give you a lift back home).
There's also millions of great places to do drawings and art.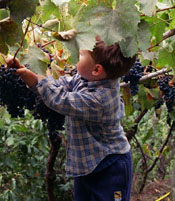 You can always help yourself to fruit: we have a path we call plum path with loads of little plum trees along it. Noone could ever finish them. We also have some fantastic pear trees. They get ginormous. The fig trees are beautiful with their huge shaggy leaves. I love a kind of Italian meat called prosciutto which you can have with melon. Even though it sounds quite weird it's really nice.
By Isabella, 2006