"Nor did I apprehend your thinking it a trouble to read the description of a place which I feel sure would please you were you to see it; especially as you can stop just when you please, and by throwing aside my letter, sit down, as it were, and give yourself a rest as often as you think proper." Pliny the Younger
The full tour
If you're like us, you'll want to know as much as possible about Casa Nova before deciding whether to come here. Below, you will find some information that applies to both of the houses on the Casa Nova estate. You can then take the full tour of Casa dell'Ortolano or Il Casale to get a detailed description of each house. You have an advantage over the reader to whom Pliny addressed his lengthy description of his own villa, in that you can skip to the bits of the tour that most interest you using these links:
[Back to top; Where is it; Why come here; How private is it?; Getting to Casa Nova; Guided tours of the area; Casa dell'Ortolano full tour; Il Casale full tour;]
In the Photo Albums you'll find many more photographs of Casa dell'Ortolano, Il Casale and their surroundings. See the pages About Casa Nova, About Umbria and Art History for more information about what you can do and see if you come here.
Where is Casa Nova?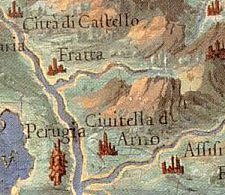 Casa Nova lies in the Niccone Valley within sight of the border between Tuscany and Umbria, equidistant (in journey time) between Cortona, one of the most beautiful towns in Tuscany, and Perugia, the capital of Umbria. From the gardens one can see to the left the mountains of the Marche beyond the Tiber valley; ahead, Monte Acuto and behind it the mountain on which Perugia stands; and, to the right, the Castles of Sorbello and Reschio in the Tuscan hills. It is an idyllic location from which to discover Umbria, Southern Tuscany and the Marche. You'll find a modern location map here.
The artistic treasures of Cortona, Perugia, Assisi, Urbino and the Upper Tiber Valley are all close to hand. Florence, Siena, and Rome are a daytrip away. This is no coincidence: we located ourselves here so as to be close to the museums and archives where Tom does his researches. (See the Art History pages of this website.) We first cycled through this valley in 1988 on an artistic pilgrimage, following in the footsteps of Piero, Signorelli, Perugino, Pintoricchio and Raphael (to name but a few) all of whom regularly passed up and down between the towns of the Upper Tiber valley and Tuscany in pursuit of their artistic commissions. To see where all this is in relation to Casa Nova, click here
[Back to top; Where is it; Why come here; How private is it?; Getting to Casa Nova; Guided tours of the area; Casa dell'Ortolano full tour; Il Casale full tour;]
Why come here?
There's more to the region than its past, however. Umbria is very far from being fossilised. (See the pages About Umbria for more about the region.) Visit the local towns of Umbertide, Cittą di Castello or Sansepolcro on market day and you'll find them abuzz: stalls laden with fresh produce or, produced with typical Italian flair, rip-offs of the latest in designer fashions. Stroll down the high street at the hour of the passegiata (the traditional stroll before an aperitif and dinner) and enjoy the mix of shops offering modern design, high fashion, gadgetry (no Italian would be without the very latest in mobile phones), antiques, wines and regional food (such as pecorino cheese, dried porcini mushrooms and truffles). Locals predominate, but tune in and you'll catch a good mix of languages. Anyone not born in the locality is, of course, seen as irremediably and forever foreign. But that applies just as much if you come from Trento in Northern Italy as from London or Paris and to say that you're seen as foreign is not at all to say that you'll be treated as unwelcome: on the contrary, we have always found people here to be remarkably welcoming.
The surrounding countryside offers endless possibilities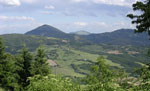 for walking and cycling. We keep a number of bikes of various shapes and sizes which guests are welcome to use, including a trailer and trailer bike for small children. For serious walkers, there is an extensive network of signed walks across Umbria and Tuscany [CAI maps, available from the bookshop in central Umbertide and at other local bookshops]. However, there are also plenty of short circular walks suitable for families. (We keep a book of these at the house.)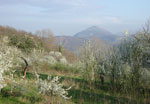 And, of course, you are free to roam over the Casa Nova estate itself: some 30 acres of woodland, meadows and orchards, with a small lake (access to this from the Garden House is fenced for safety), an open air theatre and a play area for children, with climbing frame, den, slide and swing. You can see aerial photos of the estate here.
We have a small flock of chickens who keep us supplied with eggs (although be warned - chickens tend to go on strike in August, so any eggs at that time of year should be regarded as a bonus).
The unspoilt nature of the land around Casa Nova makes it ideal for anyone interested in birdwatching, or identifying the many wildflowers and butterflies. (See the pages About Casa Nova for more information.) It's also a great spot for star-gazing. The Observatory hosting the International Robotic Antarctic Infrared Telescope program is just the other side of the Tiber valley, for good reason: this was chosen as an area little affected by light pollution. We have kept our own outdoor lights to a minimum. Switch them off; and sit on the verandah on a clear night marveling at the Milky Way overhead, seeing how many constellations you can identify and spotting shooting stars (most frequent around the feast of St Lawrence in August).
Umbria is the only land-locked province in Italy, so Casa Nova is not ideal for lovers of sand and surf. However, each of the two houses has its own private pool and Lake Trasimeno is within easy reach, for swimming and watersports.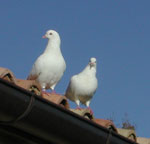 Equally, if bright lights and discotheques are your thing, you're in the wrong place. If, on the other hand you're attracted by the idea of waking up to birdsong and panoramic views from every window; gathering your own seasonal fruit and vegetables from the garden for a lunch on the shady terrace; and pottering out to one of the local towns in the evening to take in a bit of art, browse the shops and catch the buzz of local life, then this could be the place for you. A stay here offers perfect peace for stressed-out City dwellers and freedom for kids to roam and play.
Casa Nova is not suitable for non-drivers. The nearest restaurants or shops are all a distance away that would qualify as a hearty pre-Sunday-lunch walk, rather than a popping-out-for-a-litre-of-milk potter.
Having said that, Casa Nova is not isolated. There is a good choice of shopping and restaurants available within a 15 minute drive. It's about 40 minutes from Perugia airport (direct Ryanair flights from Stansted, commencing December 2006) and about half an hour from the railway stations at Terontola and Perugia (see Getting to Casa Nova and the Location map for more information and other airports in the area). You arrive via a single track tarmac road which winds up the hillside from the Niccone valley, and a short stretch of gravel drive. The nearest neighbours (an interesting mix of locals and incomers, both from other regions of Italy and abroad) are a couple of minutes walk up or down the road. When we are around, we're happy to help with queries and when we're not around ourselves we, or those who look after the place for us, can be contacted in case of need.
[Back to top; Where is it; Why come here; How private is it?; Getting to Casa Nova; Guided tours of the area; Casa dell'Ortolano full tour; Il Casale full tour;]
How private is it?
Although Casa dell'Ortolano (the Garden House) and Il Casale (the Farm House) are both part of the 10 hectare Casa Nova estate, they each offer guests privacy and peace and quiet in their own space. Standing on the balcony of Casa dell'Ortolano you can scarcely see Il Casale, which is further down the hillside, screened behind trees and orientated in a different direction: see here. The two houses therefore enjoy complete privacy one from the other, whilst being sufficiently close to make them suitable for large groups who want to be within easy reach of one another, without being on top of one another. At times when we are using one of the two houses ourselves, we can readily offer help if you ask us (leaving you to your own devices otherwise). Whilst the produce of the vegetable garden, the orchards and the hen-house is shared between the two houses, each house has its own extensive private garden area and sole use of its own separate pool. In short, you get as much space for your own sole use as in an "ordinary" holiday rental but on top of that you have access to the wider estate: see map of the estate.
Getting to Casa Nova
On receipt of the balance of the rental due, we will send you detailed directions on how to find Casa Nova, but a few general indications will be useful at the planning stage.
Our nearest airports are: Perugia (35 minutes; Ryanair from Stansted), Florence (hour and a half; Meridiana from Gatwick; Vuelling from Heathrow), Ancona (@2 hours; Ryanair from Stansted), Pisa (2 ½ hours; Ryanair from Stansted, Easyjet from Luton, BA and Alitalia from Heathrow and Gatwick), Rome (3 hours; Ryanair from Stansted and Luton, Easyjet from Luton, BA and Alitalia from Heathrow and Gatwick, and other connections from the US and elsewhere).
Car hire is available from all these airports with Hertz, Avis and other companies.
Our nearest mainline train station is Terontola (on the Rome-Florence line; 40 mins away). Umbertide is also connected to Perugia (and Southerly mainline links) by a small local train line.
For location map, click here. For ground plan, click here.
[Back to top; Where is it; Why come here; How private is it?; Getting to Casa Nova; Guided tours of the area; Casa dell'Ortolano full tour; Il Casale full tour;]
Guided tours
Subject to Tom's other commitments, he may at times be available (at extra cost and by prior arrangement) to conduct guided tours of local art historical sites. Email us at rentals@casanovaumbria.eu to enquire.
[Back to top; Where is it; Why come here; How private is it?; Getting to Casa Nova; Guided tours of the area; Casa dell'Ortolano full tour; Il Casale full tour;]
---