Pietro Perugino
Pietro di Cristoforo Vannucci, known as Il Perugino, was born c.1450 in Cittą della Pieve (near Perugia). He trained in Perugia and Florence before assuming a leading role in the decoration of the Sistine Chapel and receiving other Roman commissions (for Sixtus IV, various cardinals, and later for Julius II). He married a Florentine, and maintained a workshop in Florence as well as in Perugia. In the latter city he worked for most of the city's churches and the Galleria Nazionale has an extraordinary collection of his work. His art is also wonderfully represented in the Collegio del Cambio on the Corso Vannucci in Perugia, and a walking tour around the city takes in many other works.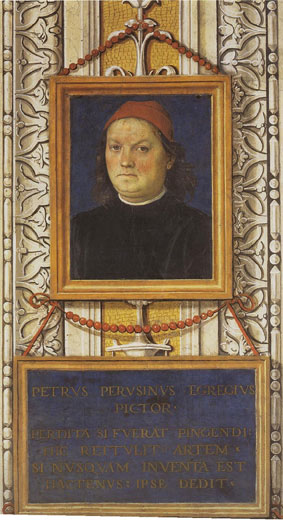 In 1500 Agostino Chigi described Perugino as 'the best master in Italy', but his period of greatest success was brief and judgements of his merits soon became less favourable. While never as sculptural as his Florentine contemporaries, Perugino learnt from their lessons and responded profoundly to Netherlandish art, especially in regard to landscape painting. His style was praised in his lifetime as exhibiting an 'angelic and very sweet air' ('le sue cose hano aria angelica, et molto dolce'), and this referred both to his rendering of atmospheric perspective in landscape and his creation of a modern style for devotional painting in the period. He outlived many of his contemporaries, dying in Fontignano in 1523.
Tom lectures and publishes frequently on Perugino, and was part of the organising committee for the large international loan exhibition Perugino. Il Divin Pittore, which was held at the Galleria Nazionale and elsewhere in Perugia in 2004. See CV. Guests at Casa Nova will find printed itineraries for visiting Perugino's works in the region; and guided tours can sometimes be arranged.
Perugino self portrait: Collegio del Cambio, Perugia