Luca Signorelli
Four figures from the Matelica Altarpiece
Luca Signorelli was one of the pre-eminent artists of his generation. Giorgio Vasari, the sixteenth-century artist and biographer who met Signorelli when he was a boy, gave Signorelli pride of place in his Lives of the Artists as the culmination of fifteenth-century artistic achievement. (For an entertaining website which publishes extracts from Vasari's Lives alongside pictures of the works of art he discusses, see http://easyweb.easynet.co.uk/giorgio.vasari and to see others of Signorelli's works click here.)
Signorelli was born in Cortona c.1450, and died there in 1523. He apparently trained with Piero della Francesca in the mid-1460s, which helps to explain the younger artist's confident grasp of geometry and space, the monumental strength of his drawing, and his early command of an oil-based medium.
He worked in the Sistine Chapel in Rome in the early 1480s, and this resulted in numerous prestigious commissions across Italy in the 1480s and 1490s. He was granted citizenship of Città di Castello when he first worked in that city, and his connections with the Upper Tiber Valley resulted in works for Umbertide, Morra, Montone, Sansepolcro and Citerna that span the whole of his career. In 1498 Signorelli was asked to paint frescoes in the great cloister of the abbey at Monteoliveto Maggiore, south of Siena, but he abandoned this project when he was summoned to paint the frescoes in the Cappella Nova of the Cathedral at Orvieto (1499-1504). The decoration of this chapel had been started by Fra Angelico in 1447 and had been left unfinished for fifty years. Signorelli's frescoes, which were restored in the 1990s, are his undisputed masterpiece and one of the most uplifting and dramatic monuments of the Italian Renaissance. To view a video of the frescoes, with a narrative by Tom, click here.
Detail from Orvieto self portrait: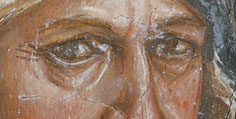 Signorelli was less interested in classical beauty than Piero and could be both bold and careless. He was more interested in striking combinations of colours than in accurate observation of light, and no other fifteenth-century artist drew such monumental figures in action. As a result Signorelli is frequently held up as one of the supreme exponents of the male nude.
Signorelli's reputation is not as high today as it was in his own time. Although art historians usually recognise him as an important figure for the Italian Renaissance, he has been comparatively neglected in the second half of the twentieth century. Until Tom's work brought him firmly back into view with a monograph published in 2012 and international exhibition in Perugia in the same year, the last major monograph (written in Italian) had been published in 1903 and the last major international exhibition of his work was in 1953. For some photos from the 2012 exhibition click here.
Detail from Citta di
Castello St Sebastian:


Tom publishes and lectures regularly on Signorelli and has curated small exhibitions of his work in London (Signorelli in British Collections, National Gallery, 1998-9) and Umbertide (Amicizia e francescanesimo: Luca Signorelli, Umbertide e la pala di Santa Croce, 2006) as well as co-curating a major exhibition in Perugia with itineraries elsewhere in Umbria (Signorelli - "de ingegno et spirto pelegrino", 2012). Tom's monograph on Signorelli (The Life and Art of Luca Signorelli, Yale, 2012) is complemented by his web-publication of the related archival documents and his catalogue raissoné of Signorelli's work (Luca Signorelli. The Complete Paintings, London, 2002 , with an introduction by L. Kanter). He has lectured on the artist at the National Gallery in London, the Courtauld Institute, London, the San Diego Museum of Art, San Diego, the Metropolitan Museum of Art, New York, the National Gallery of Art, Washington, Christ Church Picture Gallery, Oxford and at numerous seminars and conferences in the UK, USA and Italy. See CV.
Guests at Casa Nova will find printed itineraries for visiting Signorelli's works in the region (a Signorelli circuit); and guided tours can sometimes be arranged.
You can read some of Tom's publications about Signorelli here (see CV for full details):
Signorelli's Virgin and Child: a gift to his daughter
New documents for Signorelli's 'Annunciation' at Volterra
It would be fun if this was Signorelli's signature (and thumbprint) but, sadly, it's a later inscription - a trap for the unwary!