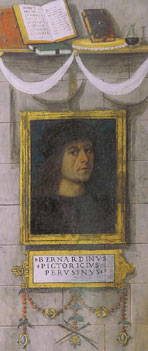 Bernardino di Betto, called Il Pintoricchio, was born in Perugia circa 1454 and died in Siena in 1513. Although he maintained a presence in Perugia throughout his career, he was in such great demand in Rome in the 1480s and 1490s (working for successive Popes and Cardinals), and in Siena in the last decade of his life, that many of his surviving works are to be found in those two cities. Pintoricchio developed a highly influential approach to fictive architectural decoration (which frequently imitates antique mosaics), and he was greatly concerned with recreating historical verisimilitude through details of dress and setting.
Famed for his ornate and decorative style, and for his interest in the rediscovery of the Antique, he is best remembered for some extraordinary fresco cycles. One of these, the Cappella Bella at Spello, is less than an hour from Casa Nova and is as vivid as the day it was painted (c.1500-01).
Tom Henry was one of the curators of the major exhibition on Pintoricchio which was held at the Galleria Nazionale dell'Umbria in 2008. Guests at Casa Nova will find printed itineraries for visiting Pintoricchio's works in the region; and guided tours can sometimes be arranged.

You can read Tom's essay for the catalogue of the Pintoricchio Exhibition here: 'Perugia 1502' (English and Italian versions).