Piero della Francesca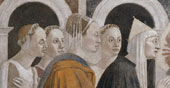 Piero della Francesca was born in Borgo Sansepolcro c.1411-13, and died there in 1492. The harmony of his works, with their light, clear palettes and their geometric underpinning, has a captivating stillness which gives even his narrative works a timeless quality.
His interest in naturalistic landscape painting, and his wonderfully monumental sense of form, partly derived from Florentine art and from the Antique, combined with his interest in perspective and pictorial composition, have marked him out as one of the great innovators of the Italian Renaissance.
Piero's Resurrection is the star attraction in Sansepolcro, and great works by the artist can also be found in Arezzo, Monterchi and Perugia (all within an hour's drive of Casa Nova). Slightly longer drives extend the list of paintings by Piero in the vicinity to include those in Urbino, Florence (both approx an hour and a half away) and Rimini – amounting to an almost complete tour of the artist's works still in Italy. To browse through some of Piero's works online, click here.
Tom lectures regularly on Piero and his contemporaries (including at the Fondazione Piero della Francesca in Sansepolcro, in 2005 & 2006). See CV. Guests at Casa Nova will find printed itineraries for visiting Piero's works in the region (the Piero trail); and guided tours can sometimes be arranged.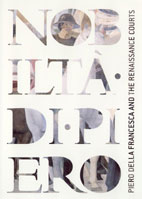 2007 saw a large exhibition of Piero's work in Arezzo, with itineraries taking in Monterchi, Sansepolcro and Urbino.