To jump to the bit of the tour of Casa dell'Ortolano that interests you, click on the links below. For the photo album, click here. For a tour of Il Casale (the Farm House) click here.
[What's the house like; The living space; The bedrooms; Cot etc; Outdoors and pool; Will it suit us?]
What is the house like?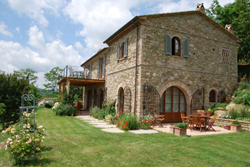 Work on Casa dell'Ortolano at Casa Nova was completed in 2006. Yet it looks as if it has always been there.
Our aim was to create a building that is beautiful, in harmony with its surroundings and environmentally sound. The house and garden are designed to blend into the surrounding landscape of wild cherry trees, olives and oak. Much of the stone in the walls of the house came from the terraces on which it stands and the materials used are natural and, as far as possible, local: terracotta (reclaimed or handmade locally), chestnut timbers, limewash with natural pigments, marble and granite. The house is heated by a combination of solar power, wood-burning stove (fuelled by timber logged sustainably from the surrounding land) and an auxiliary natural gas boiler which kicks in only when needed. These power both underfloor heating and hot water.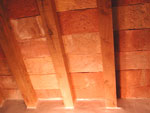 Casa dell'Ortolano combines the best of traditional style and modern design. For example, the roof is constructed using the traditional elements of huge chestnut beams, old handmade Roman tiles, externally, and handmade terracotta "pianelle", internally, but sandwiched in between these is a modern (and, in Italy, still unusual) innovation: a layer of insulation and a system of ventilation channels which keep the house cool in Summer and warm in Winter. The floors downstairs are of reclaimed terracotta, worn with age. Upstairs, in the bedrooms, we instead chose to have the floors made of polished cement, mixed with ground marble and natural pigments. This material has a luminous quality, bringing light into the room and reflecting the colours of the walls. It feels (counter-intuitively) soft and velvety under bare feet.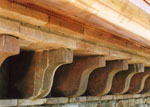 The house does not have air-conditioning. We do not find it necessary. The walls are very thick; the house is double-glazed throughout and inner and outer window shutters enable one to regulate the amount of light and therefore heat entering the rooms. The position of the house, at about 500m above sea level, looking South over the valley, means that it seems always to catch a refreshing breeze. Equally, while one is bound to get the odd mosquito in Summer, we do not find them to be enough of a problem here to wish to live behind netting. Simple precautions, such as drawing voile curtains and not leaving windows standing open at night with the lights blazing, seem to suffice. We do provide plug-in mosquito zappers for the bedrooms, and the local supermarket sells refills for these and citronella candles for those who wish to use them.
[What's the house like; The living space; The bedrooms; Cot etc; Outdoors and pool; Will it suit us?]
The living space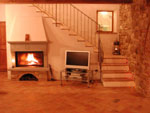 We used Casa dell'Ortolano ourselves over a number of years whilst we were working on the restoration of Il Casale (the Farm House) and so it has everything you'd expect in a well-equipped family home, including broadband internet access, wired network and a networked printer for those needing to keep in touch with work (or, perhaps, coming here to get some writing done in peace and quiet). Internet access also means you can access these pages for useful local information!

The house is furnished throughout in an elegant but relaxed mix of traditional and modern styles. There's nothing less relaxing than going on holiday with children and having to spend your time worrying whether they'll wreck the antiques or diving across the room to rescue some delicate nicknack from your toddler's attentions. So, for example, the furniture is, for the most part, painted wood: light in tone, easy on the eye and robust; and the sofa covers are washable; but there's no compromise on comfort and style.
Sitting room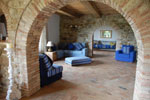 In the sitting room, two walls of which have been left with the very characterful stone and brickwork showing (facciavista), there are plenty of comfy sofas, a stone fireplace and a flat-screen TV with satellite receiver for free-to-air, DVD and video player (through which you can also play music CDs), and phone (you will be charged the cost of your calls).
There's also a selection of board games and toys, some CDs and a large library of English-language videos and DVDs for all age-groups. We recently completed a hand painted panelled ceiling for the sitting room, based on adapting a Renaissance pattern. You can view the work in progress here.
Utilities
To take care of the chores, there's a dishwasher and washing machine. Towels, swimming towels and bed-linen are supplied. Our very charming Italian cleaner cleans and prepares the house between rentals and, in the case of a rental for more than one week, will visit at the end of each week to clean and change bed-linen and towels. She can come more often by separate arrangement (and at additional cost).
Kitchen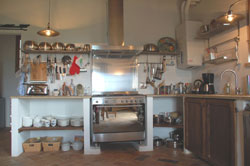 The large, high ceilinged kitchen/dining room opens through a wide archway from the sitting room, so that the chef need never miss out on the conversation. The kitchen is equipped for serious cooks who want to make the most of the local produce. There are generously sized work surfaces of hammered granite around the double sink and the large gas hob. There's an electric oven big enough to take a whole sucking pig, should you be brave enough; a separate wood-burning stove/oven for winter use;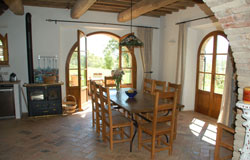 a larder containing a deep butler sink, large fridge-freezer and separate drinks fridge; a bread-making machine (set it on a timer at night and have fresh bread for breakfast); food processor; mixer; blender; espresso maker; juicer; and all the other necessary paraphernalia to cook up a storm should you feel so inclined. There's also a good selection of cook books. The dining table indoors seats up to 8 (more if you eat outdoors). Outside there's a barbecue. For those who regard being on holiday as a good reason NOT to cook there is an excellent range of restaurants within a short drive of the house. (See Where to Eat, in About Umbria, for details.)
[What's the house like; The living space; The bedrooms; Cot etc; Outdoors and pool; Will it suit us?]
The bedrooms and bathrooms
The house has 4 large bedrooms. Each bedroom has its own en-suite bathroom. Amongst the many things Italy is tremendously good at are luxurious bathroom fittings and gorgeous ceramics and marbles; and we haven't stinted on these in designing the bathrooms. We have also enjoyed choosing from the best of Italian lighting design, being unafraid to combine the strong look of stone, timber, terracotta and limewashed walls, with sculptural modern lights. Judge for yourself whether you like the result by browsing the Photo Album.

Studio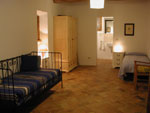 One of the bedrooms, the Studio, is on the ground floor and doubles as a study, with writing desk and basic PC and fax/printer, as well as bookshelves, wardrobe, and chests of drawers. This room opens through an arched doorway off the sitting room and has windows facing West, and a door onto the South-facing ground-floor terrace, shaded by the Pergola.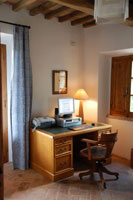 It can be used simply as a study and extra sitting room, if the three double bedrooms upstairs are sufficient to accommodate your party. Normally it is set up with two single beds (of which one doubles as a sofa) but if required it can be set up with up to three single beds or two of the beds can be joined to make a double. It would be suitable for someone who has difficulty with stairs, since access is all on one level. There is an old laptop (suitable for checking emails but not for the latest games) and a networked printer (useful for printing boarding cards or directions, direct from your IPad). The laptop can be used to view DVDs, which is useful if you have the sort of family who can never agree on what to watch, or to play music CDs. The en-suite bathroom has a shower with thermostatic control, sink, bidet and WC and is finished with pale travertine marble.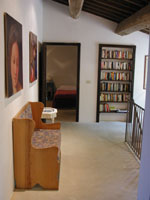 The other three bedrooms are on the first floor. These open off the airy hallway, which is where you arrive when coming into the house from the car parking spot on the terrace above (and is also where the controls for the alarm are situated). Here you'll find a large selection of English-language books, local guides and maps; a bench seat; and, on the wall, a couple of large panels showing details from paintings by Raphael, which are a souvenir from the exhibition on Raphael that Tom co-curated at the National Gallery in London. From the hallway, stairs with a wrought iron balustrade lead down to the sitting room.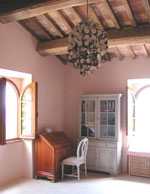 The largest bedroom, with windows to the East and South, has a super king-size bed. (This is zip-linked and can instead be made up as 2 singles if required.) The walls are a soft pink. It is furnished with a window-seat, writing desk (if you bring a laptop, you should be able to access the internet from here via the network), dressing-table, bedside tables, bookcase, wardrobe and chests of drawers.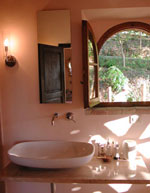 This room also has a small lockable safe for valuables; a docking station for playing music from MP3 players; and UK adaptor plugs for mobile chargers etc.

The large en-suite bathroom has a huge shower, which is clad on three sides with great slabs of beautifully veined travertine marble and has two shower heads(both thermostatically controlled). There is also a large sink suspended on another slab of marble, a separate double-ended bath (more marble - I confess we did go rather mad here) and, of course, bidet and WC.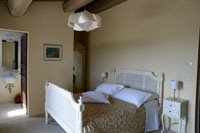 The middle bedroom is a sunny yellow and has a large double bed and French doors to the South-facing verandah on top of the Pergola. It also has a desk, dressing table and chairs, wardrobe, chest of drawers, and bedside tables.

In addition to sink, bidet and WC, the en-suite bathroom has a roomy shower, lined with honey-coloured marble tiles. This again has two shower heads and thermostatic controls.
Camera Azzura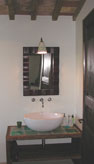 The end bedroom, with French doors to the South-facing verandah on top of the Pergola as well as windows to the West, has a super king-size bed which again can instead be made up as 2 singles if required. The walls are a pale, delicate blue. It has a small bookcase, wardrobe, chest of drawers, bedside tables and a portable tape/CD player.

The en-suite bathroom has handmade green-glazed tiles and handpainted ceramic light fittings. In it there is a large bath with a shower above it, sink, bidet and WC.
[What's the house like; The living space; The bedrooms; Cot etc; Outdoors and pool; Will it suit us?]
Cot
A children's cot is available on request, as is a travel cot, car seat, booster, highchair and two stair-gates. The latter cannot be fitted on the stairs themselves but can be fitted to the door of a bedroom to prevent a young child wandering off by themselves toward the stairs. On a terrace above Casa dell'Ortolano is a rustic play area with slides, a swing and a den. See the Family Holidays section for more information on holidaying with children at Casa Nova. Also available are children's cutlery, a microwave steriliser, changing mat, and a variety of children's toys and books. Please notify us ahead of time if you require any of these as they are also made available to Il Casale (the Farm House).
[What's the house like; The living space; The bedrooms; Cot etc; Outdoors and pool; Will it suit us?]
Outdoors and pool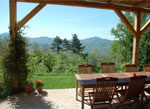 Outdoors, you have a choice of sitting spots: outside the sitting room there's a shady pergola with tables and chairs that can be combined to accommodate ten or separated for smaller groups. At night, you can eat out by candlelight. Outside the kitchen there's a sunny terrace and a round table ideal for morning coffee. Up on the balcony on top of the pergola, there's a small table and variety of seats for sunning yourself or sipping an aperitif as you watch the sun slide behind the shoulder of the hill. There are a number of other benches dotted around the garden. There's also a large kettle barbecue.
Casa dell'Ortolano is named for its garden, which is full of herbs, old roses, irises, herbaceous plants, decorative grasses and peonies, all mingled with wildflowers. Low maintenance it isn't, as this gardener can attest, but very beautiful. There are lots of photos of the garden in the photo album; for a plant list see here.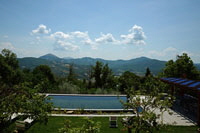 Casa dell'Ortolano's own private pool is on a terrace below the house. This is a Bio-pool, with natural chemical-free filtration, and is fenced. At 11m x 5m, it is a "proper" pool size, ample for swimming lengths or playing games but as the depth is about 1.20m it is unsuitable for diving. For more pictures of the pool and its relationship to the house see the photo album.

[What's the house like; The living space; The bedrooms; Cot etc; Outdoors and pool; Will it suit us?]
Will it suit us?
The layout of Casa dell'Ortolano is designed to be flexible: it will equally well suit families or groups of adults sharing the accommodation. Three of the bedrooms can be flexibly configured with either double or twin beds, according to your needs, whilst the fourth bedroom has a double bed. The house is best suited to groups of 3-8, although a 9th person or up to two infants in cots can also be accommodated, if required. Each of the bedrooms can be individually locked: for example, if a non-family group are renting the house together. The house is well-equipped for families with young children, with a play area on the terrace above and a good supply of children's books and toys.
One of the bedrooms is on the ground floor, with only one shallow step up into it from the outside terrace. Although the main parking area is above the house, linked to the house both by steps and by a sloping path, it is also possible to drop off passengers at the same level as the house before driving on to park. If one of your group can't manage steps, the ground floor bedroom may be suitable, as there are no steps between it and its en-suite bathroom or the living areas. Please feel free to Contact Us to ask questions, if in doubt.
Please note that smoking is not permitted indoors at Casa dell'Ortolano, for the sake of subsequent guests.
[What's the house like; The living space; The bedrooms; Cot etc; Outdoors and pool; Will it suit us?]