To jump to the bit of the tour of Il Casale that interests you, click on the links below. Go to the photo album for many more photos. For a tour of Casa dell'Ortolano (the Garden House) click here.
[What's the house like; The living space; The bedrooms; Outdoors and pool;Will it suit us?]
What is the house like?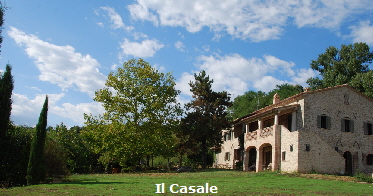 Restoration of Il Casale (the Farm House) was completed in 2013. The house had originally been constructed in the traditional Umbrian manner, with the cattle stalls on the ground floor and the family living above. In the course of the restoration we uncovered a centuries old stone floor on the ground floor. This had to be lifted in order to install a ventilated floor but we have used these beautifully worn stones for an outside terrace. The ground floor has now been transformed into living space, a beautiful internal staircase added, and the whole has been finished to a very high standard, providing spacious and luxurious accommodation for groups of up to 18 (plus infants).
As we did in the construction of Casa dell'Ortolano, we have sought to combine the best of local materials with the elegance of modern design and we have preserved traditional architectural elements, whilst introducing energy saving technology to ensure the house is environmentally sound.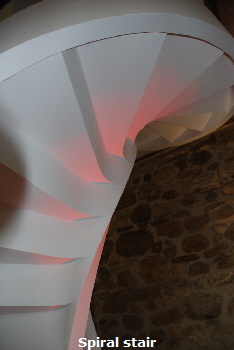 The house has broadband and both a wired and wireless network. The house is heated by a combination of solar power, photovoltaics, wood-burning stove and an auxiliary natural gas boiler which kicks in only when needed. These power both underfloor heating and hot water. In summer, the pool is solar heated. The roof is constructed using the traditional elements of huge wooden beams and old terracotta tiles but sandwiched in between these is a modern (and, in Italy, still unusual) innovation: a layer of insulation and a system of ventilation channels which keep the house cool in Summer and warm in Winter. The main living area has a floor of reclaimed terracotta and hand-painted maiolica tiles. Elsewhere, we have instead chosen to have the floors made of polished cement, mixed with ground marble and natural pigments. This material feels wonderful underfoot and has a luminous quality.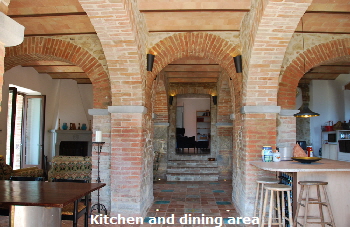 The house is naturally cool in summer and warm in winter. The house stands at about 500m above sea level, facing across the valley from which it catches a refreshing breeze in Summer. The walls are enormously thick; the ceilings are very high; the house is double-glazed throughout and inner and outer window shutters enable one to regulate the amount of light, and therefore heat, entering the rooms. We have therefore not found it generally necessary to air-condition the house, although as from 2022 we have installed a system that provides underfloor cooling at the height of summer. The bedrooms each have one window with a bug blind so that you can leave a window standing open at night. However, we do not find insects to be enough of a problem here to necessitate screens on every opening. Simple precautions, such as not leaving un-screened windows standing open at night with the lights blazing, seem to suffice. We do provide plug-in mosquito zappers for the bedrooms, and the local supermarket sells refills for these and citronella candles for those who wish to use them.
Il Casale is a substantial house, some 500 square metres in floor area over three floors. Rather than squeeze as many bedrooms as possible into that space we have preferred to create particularly spacious bedrooms and a number of large living areas. Although Il Casale can only be rented as one property, the building in effect comprises three interconnecting areas, each with its outdoor space and cooking facilities. The result is a house which is extremely well adapted for groups of people who want to be able to choose when to be together and when to be independent of one another. To get a better idea of the floor plan click here.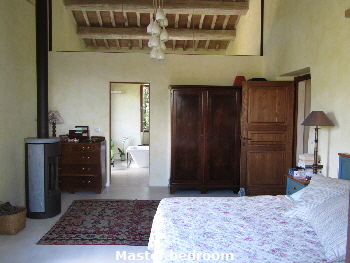 We have used natural pigments to decorate the rooms in colours that are easy on the eye without ever being bland, to create moods ranging from bold and dramatic to calm and contemplative. Throughout, we have used the best that Italy has to offer in terms of stunning marbles, designer bathroom fittings, architectural lights, hand-crafted ceramics and mosaic, and highly skilled craftsmanship. We have blended this with furnishings that are a relaxed mix of old and new, antiques and refurbished pieces sitting happily alongside modern designs. The objective was to create an ambience that would be both comfortable and elegant and with furnishings scaled to the generous sizes of the spaces. Beautiful fabrics feature heavily: antique kilims and silk hangings, "Busatti" damasked linens used for furnishings and handmade bedspreads in colours that change with the seasons.
Towels, swimming towels and bed-linen are supplied. Our very charming Italian cleaner cleans and prepares the house between rentals and, in the case of a rental for more than one week, will visit at the end of each week to clean and change bed-linen and towels. She can come more often by separate arrangement (and at additional cost).
The living space
In the centre of the house is the library, with three large sofas, a huge TV, stereo and quantities of books. This provides a shady retreat, cool even in the height of summer heat, and big enough to accommodate your whole party. On the North side is the main entrance from the parking area behind the house. The room opens on the South side into an atrium under the outside stair, leading through to the garden beyond. The atrium functions as a winter garden, sheltering geraniums and other tender plants in the cold season. To the left of the atrium is the main outside stair: marble steps lead up, past a flower bed with a gurgling antique carved stone fountain, and past a seating area shaded by lavish, jungly swags of greenery from the kiwi plant, to a first floor terrace where there is a table and chairs (one of many options for eating outdoors).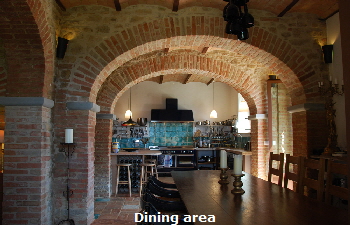 Main kitchen, dining area and snug:
At the East end of the house, on the ground floor, is a huge and magnificent brick arched space containing the main kitchen, dining area and some comfy seating around an open fire. This is the beating heart of the life of the house, providing a wonderful space in which to enjoy sociable cooking and even more sociable meals. It is "churchy cool" in Summer and snug in winter.
There are twin ovens (90cm and 60cm), twin dishwashers, a twin fridge/freezer with ice maker, a separate drinks fridge, three sinks and a truly comprehensive array of kitchen equipment (including magimix food processor, kitchenaid mixer and blender, breadmaker etc). In the library next door there is an extensive collection of cookbooks to provide inspiration. There is space enough around the central hammered granite worktop for many cooks to work alongside one another without clashing, whilst chatting to those who wait at the candlelit table beyond.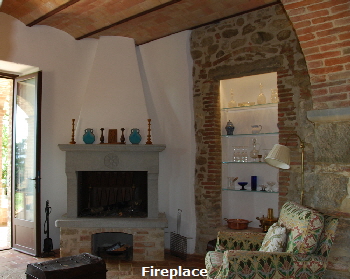 From the kitchen, glazed doors lead out to an East-facing terrace where there are outdoor sofas and, on the other side, to a shaded portico and, beyond that, the South-facing lawn. Imaginative lighting of this central living area makes the most of the interesting architecture of the space and allows you to create different moods. Prior to the restoration this room was the main cattle stall, lined with mangers whose wood was worn smooth over the centuries by contentedly munching cattle. We have reused this wood to build shelving in the dining area, as well as window seats and shelves in various of the bedrooms. You can still see the well-worn holes where ropes were passed through to tether the beasts.
From the kitchen, a sculptural spiral stair takes you to the upper floors.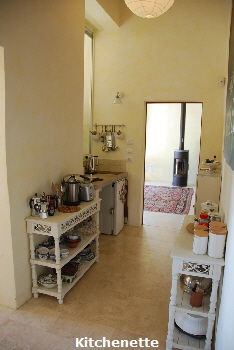 Corridor and first floor kitchenette:
The central corridor on the first floor is an airy space, with a choice of different "desks-with-a-view" and extensive bookshelves built from antique stone portals reclaimed during the restoration. Outside the master bedroom there is a kitchenette with fridge, two ring hob, kettle, toaster and juicer. This provides an alternate place you can make breakfast or a light meal. This is located just around the corner from the shady terrace, at the top of the main outside stair, which has a table where you can settle down to eat or work.
Study: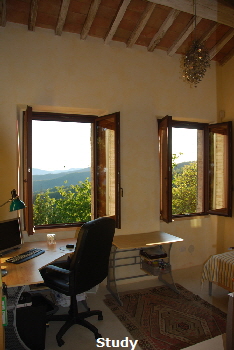 Behind the kitchenette is a sunny study with a desk and a daybed. This is a wonderful place to work, with views out across the Niccone valley. This room can be used as an additional bedroom if needed, either for a single person or by extending the daybed into a double bed.
There are also a number of other desks around the house and a wireless network, so you have a wide choice of places to set yourself up if you need to catch up on emails or get some work done.
First floor sitting room (can be used as bedroom):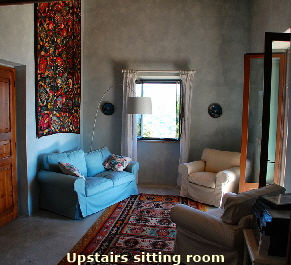 At the other end of the first floor corridor from the master bedroom there is another sitting room. This is a delightful light-filled space with a double height ceiling and fantastic views in two directions. This space can be used flexibly. Double folding doors can be used, if desired, to divide the room in two so that one part can be used as a guest bedroom with twin beds or a kingsize bed, whilst the other part is used as a sitting room, with an overhead sleeping platform which has two more single beds. Alternatively, the doors can be folded back and the two parts of the room can be used together as one large sitting room. The room is decorated in a restful sky blue and a magnificent antique silk Suzani hanging covers one wall. There is an elegant wood burning stove in one corner for ambience (the house has under-floor heating throughout). A roofed balcony outside offers a perfect spot from which to drink in the truly exceptional views and there is another table and comfy chairs here, perfect fr a shady lunch spot. From here, the second outside staircase leads down to the kitchen terrace.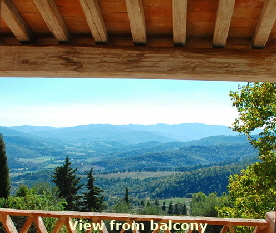 Top floor - laundry and mezzanines:
The spiral stair continues to the top floor where you will find a washing machine and tumble drier, airers, and (lockable) access to the mezzanine platforms above the yellow room and the upstairs sitting room, respectively. (Some parts of the top floor are used to store our own belongings when the house is rented out. These areas are excluded from the rental.)
The bedrooms
We have created 4 large ensuite bedrooms upstairs. In addition, the upstairs sitting room can be divided to form a double guest bedroom and a separate twin bed sleeping platform and the study can be used as an additional single or double bedroom (sharing a family bathroom on the main corridor). Between them they can sleep up to 14. The downstairs apartment has a further ensuite bedroom with kingsize or twin beds and a separate room with a bunk bed, bringing the total capacity to 18.
Master bedroom: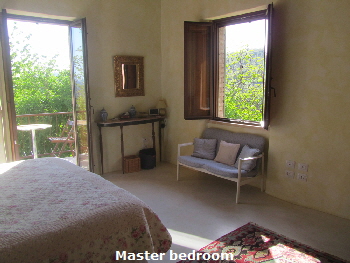 This suite takes up the entire West end of the first floor, catching the best of the evening light. It has lovely views to the South, down the Niccone valley, and West. The bedroom is decorated in a soft yellow ochre tone with an old kilim providing a splash of rich colour. It has a king size bed, a large antique wardrobe and chest of drawers, a sofa, a wood-burning stove. A french window leads to a balcony overlooking the garden, where two can sit over coffee or a sundowner. The top part of the wall which partitions the bedroom from the bathroom is glazed, so that you get a play of light across the full span of the beamed roof.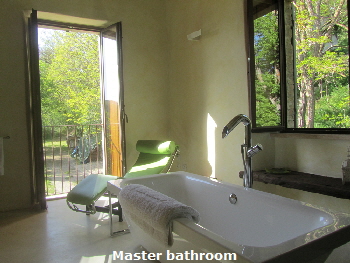 The ensuite bathroom is large enough to allow space for a classic Corbusier recliner by the window (perfect for relaxing). It has a free-standing bath, into which water cascades from a sculptural tap, an enormous rainfall shower and a separate multi-function shower, set against a sweeping backdrop of dark green marble. The lighting is flexible, allowing you to alter the mood: the bedroom has low level lighting from sidelights or overhead lighting from a splendid pendant light of 11 porcelain drops, each lit from within; the bathroom lighting offers combinations ranging from the theatrical (uplighters throwing needles of light across the dark marble) to the soothing (cool, blue led lights at floor level and lighting the water from the shower).
Green bedroom: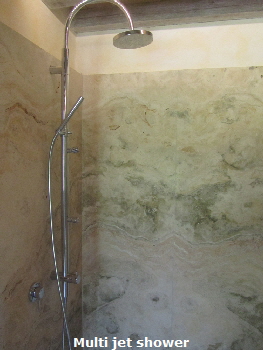 This is smaller than the master bedroom but still a very pleasant room. During restoration we discovered a niche built into the stonework on one wall and we decided to leave that stonework exposed, giving the room back its history. The room is lit by uplighting on the exposed stonework and by a reproduction of the 1958 classic Henningsen "artichoke" pendant light, in a warm copper. This room can be set up either with a single bed, twin beds or as a kingsize.
It has a large built in wardrobe, a desk. and a window seat. There is a comfortable den with seating and bookshelves on a mezzanine platform accessed by a stepladder on one side of the bedroom (which you can if you wish remove, for example to prevent young children using it). The ensuite bathroom has a multiple jet shower, set in a beautifully patterned marble.
Blue bedroom: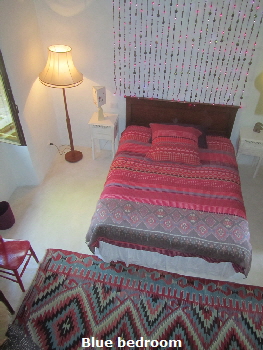 This is a large, airy room decorated in a pale blue wash to tone with the old Turkish kilim on the floor. It has a leafy outlook on the North side of the house. There is a king size bed, with a charming curtain of lights on the wall behind it for mood lighting. You can alter the atmosphere with sidelights and an elegant pendant light by Louis Poulson, which provides good, even light without dazzle.
There is a large walk-in wardrobe, chest of drawers and desk. Again, the room has a roomy den, with sofa and bookshelves, on a mezzanine platform accessed by a stepladder on one side of the bedroom (which you can if you wish remove and stow). The ensuite bathroom has exposed stonework, handmade ceramic tiles, and a spa bath with multiple jet functions (and colour changing underwater lights!)
Yellow bedroom: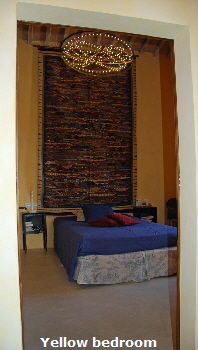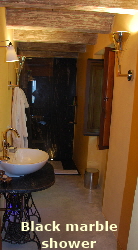 This is a large sunny room with a South-East facing aspect and lovely views towards Monte Acuto. It has a king size bed with a magnificent Moroccan kilim used as a hanging behind the bed. In the airy beamed roofspace high overhead hovers an Artemide Copernico suspension light, like a yet-to-be-discovered galaxy (this is dimmable when you want a gentler and less theatrical effect). The room has a desk and study area on a mezzanine platform, accessed from the top floor. The dramatic ensuite bathroom has a Fantini Milano shower (dual rain and cascade functions), set against jet black marble.
The ground floor studio apartment comprises a very large open plan living area (with two sofas, TV and dining area) and bedroom (which can be made up as twin beds or king size bed); a small but well-equipped kitchen; and an ensuite bathroom.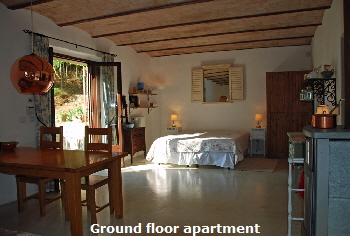 In an adjoining room there is a bunkbed suitable for two chlldren.
The apartment is ideal for those of your party who would appreciate being able to retreat from time to time into their own independent space, without losing touch with the rest of the party. It is also suitable for those with limited mobility, since there are no steps to access the apartment and the bathroom has a large walk-in shower. The apartment has a West-facing outside terrace, which is where the wood-fired pizza oven is located. Note that the apartment is rented only as part of a rental of Il Casale and is not available separately.
Additional bedrooms and bathrooms: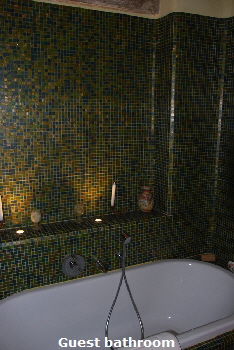 As already noted, there are two rooms (pictured above) which can be used as additional bedrooms if your party exceeds 10 people. The upstairs sitting room can be divided by double folding doors to create a separate guest bedroom, which can be made up either as two twin beds or as a kingsize bed. This has a hanging space, chest of drawers, easy chair and writing table. In addition, there is a sleeping platform with two single beds over the sitting area. There is also a single/double bed available in the study. There is an additional bathroom on the upstairs corridor, easily accessible from either room. This has a large bath, with a shower over the bath, and far from being the poor man's option it is clad in luxurious "Bisazza" mosaic, in a beautiful mix of greens and golds. There is also another bathroom under the outside stair, accessible directly from the garden, which has a shower.
Outdoors and pool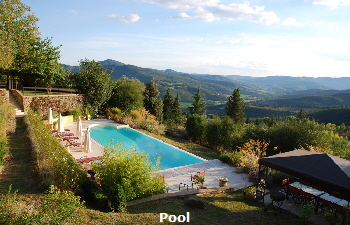 Il Casale's pool is truly a highlight, set on a terrace below the house with magnificent views down the Niccone valley. It measures 15m x 5m, with a deep end, and has an infinity edge. Around it there is a generous area of travertine marble paving. The classical formality of the architecture is softened with waving bamboos and grasses and pots of scented lemons and mandarins. It is, in short, very beautiful. The pool area is generously supplied with sunloungers and umbrellas and is fenced for security. Next to the pool there is a barbecue and a gazebo shading a large dining area with seating for up to 14.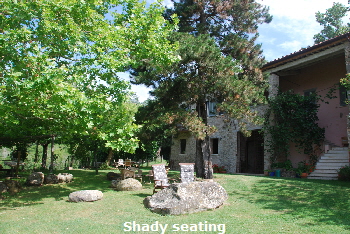 In front of the house there is a broad lawn fringed with flower beds and screened by olives and hazels along one side. A vine pergola shades two extending tables seating up to 18 and around the house there is plenty of shade from established trees and a number of other strategically placed tables and outdoor seating, offering plenty of choice for sociable seating or dining areas within easy reach of the main kitchen. Standard cooking herbs are planted in a bed immediately outside the kitchen and there is also a herb garden containing a wider range of herbs.
There is a large Weber barbecue and at the West end of the house is a wood-fired pizza oven, to complete the gamut of cooking options.
On the hillside below the house there is an open air theatre with wooden benches arranged around a small stage. This was built years ago by an architectural student as a project and, although it is now crumbling a little, it is a charming spot with panoramic views. The acoustics are surprisingly good, as a visiting group of Canadian musicians once convincingly demonstrated to us, so if you have talent, don't hesitate to give it full rein.
If you continue past the house you will reach the enclosure where the free-range chickens live, when we do have a flock (this is something of an ongoing battle with foxes and other predators)..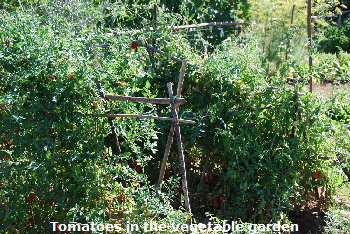 If, instead, you go up the hill behind Il Casale, you will find a large vegetable plot, strawberries, an asparagus bed and various orchard trees (cherries, plums, apples, pears, peaches, apricots, medlars). These are shared with Casa dell'Ortolano, which is on a terrace further up the hillside, together with its pool.
Will it suit us?
Il Casale is particularly well suited to large groups of adults or families with older children, who need enough space that everyone can get away from one another from time to time, whilst still being able to be sociable. Teens can be watching TV in one sitting room whilst adults relax with drinks and music in another. Grandparents can retreat to the downstairs flat, if in need of some quiet. A group of couples can mix and match between romantic time a deux and catching up with friends: for example, making their own breakfasts or lunches in different spots, and coming together for a big communal dinner in the evening. The house is best suited to groups of 10-18. Up to two infants in cots can also be accommodated (depending on availability, as the two cots, highchair and other paraphernalia are also made available to Casa dell'Ortolano, so please enquire at the time of booking if this is required).
We do not recommend Il Casale for toddlers and very young children - the mezzanines are not suitable for young children and generally there are a lot of stairs to fall down which cannot practicably be fitted with stairgates. If your party includes toddlers or young children you may find that Casa dell'Ortolano suits you better. See detailed information for parents here and here.
The ground floor apartment is suitable for individuals who have reduced mobility, as access is without steps and the bathroom meets disabled standards.
Please note that smoking is not permitted indoors at Il Casale, for the sake of subsequent guests.